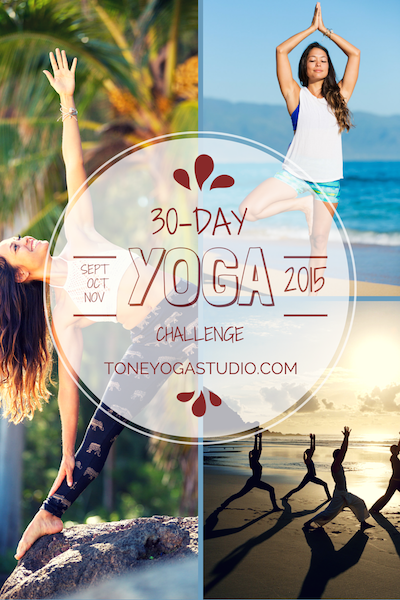 Our 30-Day Yoga Challenge is here again. This time we have prizes to give away and we have extended the time to include 3 months.
How can you join?
1. Choose your start day. We are running the challenge for all of September, October and November of 2015, so you can choose any 30 days in there. (You can also choose to do 3 challenges and be entered in our prize draw 3 times!)
2. Choose your challenge. Yoga includes: meditation, mantra (chanting), asanas (poses), mudras and pranayama (breath). Choose something that is a challenge to you and do your best to do it daily for 30 days.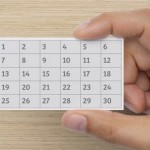 3. Record how you are doing. We have cards that will help you to check off your 30 days (these are also used for our prize draw). Ask at teacher at Tone for one or create your own if you are from far away.
4. Support others and get support from an online community. We have a Facebook group (click here to join) all set up and ready to go. Use this to talk about challenges, share information and to cheer each other on.
5. Enter in the prize draw. Tone is giving away a prize. You can either win 1. unlimited monthly yoga pass ($90 value) or a 2. 90-minute Thai Yoga massage ($95 value). The draw will be made on December 1st, 2015. If you are from out of town you can still enter by email (info@toneyoga.ca).
---
Some Great Questions
Why is the challenge 30 days long?
We chose 30 days mainly because we have heard great feedback about our previous 30-day challenges. The inspiration that led us there was the TED talk by Matt Cutts — Try Something New for 30 Days. Matt wisely states, "It turns out 30 days is just about the right amount of time to add a new habit or subtract a habit — like watching the news — from your life."
What if I miss a day?
Life happens and sometimes we miss a day because of something we cannot change. Yoga teaches us to flow with change, accept the things that we cannot shift and also it teaches us how to tap into our inner fire, willpower and determination. Choose something that is a bit of a challenge to you, but also choose an amount of time that you can actually fit into your already busy life. Do your best and if you have to miss a day – we understand. You still get to enter in the draw. The true prize of sticking with this every single day will be yours at the end of the 30 days.
How long should I do yoga every day?
If you currently don't have a daily yoga practice and you have a packed schedule you might want to aim for 5-10 minutes a day. If you have a daily yoga practice that is all about asana (poses), then you might want to add in pranayama (breath practices) and/or meditation. Choose a time of day that works best. How much time can you give to yourself? This is your time to recharge and renew so that you can be fully present for your work, your family and your friends.
If you have other questions we would love to hear them via email (info@toneyoga.ca) or in the comments below.