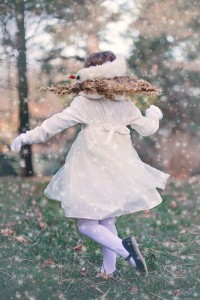 Amanda was a dancer until the age of seventeen. Competitive dance wasn't the path that she wanted; yet she missed the movement, music and expression that dance gave her.
As a University of Guelph student, Amanda signed up for a yoga class with Marilyn Mayberry of Soul Energy Yoga and felt at home again. She continued classes with Marilyn and even did water yoga classes in a pool. Amanda still carries Marilyn's card around with her in her wallet to this day.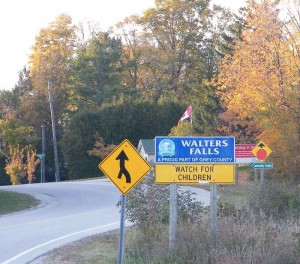 Things shifted in Amanda's life and she made the move to Walter's Falls, then to Williamsford, where she currently resides.
Yoga was on hold for a few years, until Amanda discovered Tone Studio and started attending classes with her mother-in-law so that they could spend time together and Amanda could have a rejuvenation break in her new parent role.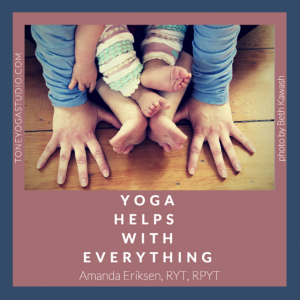 "Yoga helps with everything!" Amanda said with a pause and a laugh when I asked her how yoga affects her daily
life. "It has been transformative for me. Yoga helps me to be a better person for myself, my husband and my children."
Amanda has a three and a half year old son and an nine-month-old daughter, so life is busy. She also works as an Environmental Technologist for GM BluePlan Engineering in Owen Sound, teaches Baby & Me and Prenatal Yoga at Tone Studio and an All Levels Yoga class at Participation Lodge in Holland Centre. Soon she will be opening Rising Crow Yoga Studio out of her newly built home in Williamsford.
"Yoga helps me to regroup and find balance," says Amanda. "My favourite go-to poses right now are Warrior, Triangle, Extended Side Angle and Reverse Warrior. I like this flow because it helps me to build strength and be in my body. I like to see if I am feeling like I want to hold the poses or do more flowing. It really shows me where I am at in that moment."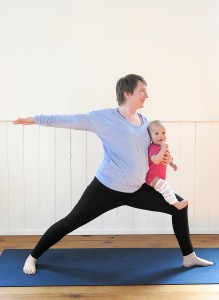 You can connect with Amanda via email (amanda@toneyoga.ca), on Facebook, on Yoga Trail and on LinkedIn
Trainings Amanda has taken since 2013: