By Diane Liska, H.B.Sc., MACP, CYT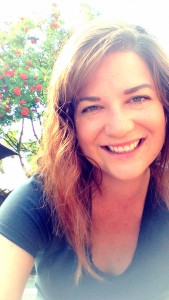 A panic room is a place for unconditional protection from the outside world. Or at least it's supposed to be. In actuality—and aptly, given the name—a panic room is a place to find yourself increasingly panicked.
I used to think of vulnerability as a place within myself, painted with the shame and guilt of my ego, that I would (be forced to) visit from time to time. Vulnerability was where primal fear and anxiety reverberated off the thick, steel walls of my mind—it was my "panic room."
Needless to say, my initial reactions to vulnerability are fear-driven and avoidant. They are riddled with perfectionistic undertones. My brain tells me "everyone is watching" and if I don't perform well enough then I will be judged—in fact, my strictest judge is almost always myself.
As a therapist, I am continuously humbled by the opportunity to hold space for others during their periods of vulnerability. The therapeutic relationship that I build with a client is truly a symbiotic one, as I can guarantee that I have learned just as much from them as (I hope) they may from me. My relationship with vulnerability started to shift when I finally reflected on my own reactions (or as we call them in the world of Psychology, "counter-transference") to some of my clients' own perceived vulnerabilities. And as with most things in life, it was much easier for me to see when witnessing others that there was something so courageous and ultimately beautiful about being vulnerable.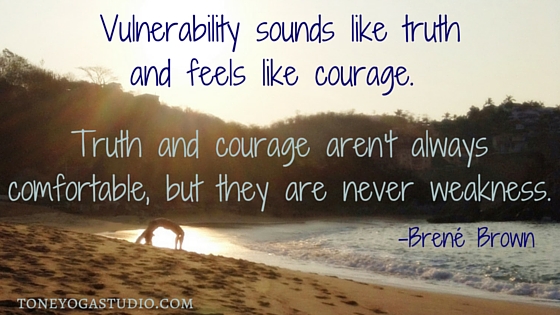 Through holding space for my clients and my own personal life challenges, I have found that my own self-acceptance is extremely powerful. It seems ironic to me that a place I would once avoid due to overwhelming anxiety is now a place where I find great courage. My original evasion of vulnerability had been due to my own irrational anticipation of unsolicited judgement from others, but has instead been met with opportunities for authentic connection. I have formed some of my deepest connections with many beautiful human beings by building my courage to be vulnerable. I have also formed the (so far) deepest relationship with myself. Cultivating authenticity seems to come full circle. What a remarkable feeling… to know that I am enough.
Read more about or register for Diane's 10-week series Yoga for Wholeheartedness by clicking here
or contact Diane at diane@toneyoga.ca to inquire about private yoga-based therapy sessions.