Party on at Tone!
by Becky Thorne, Yoga Teacher & Children's Yoga Teacher.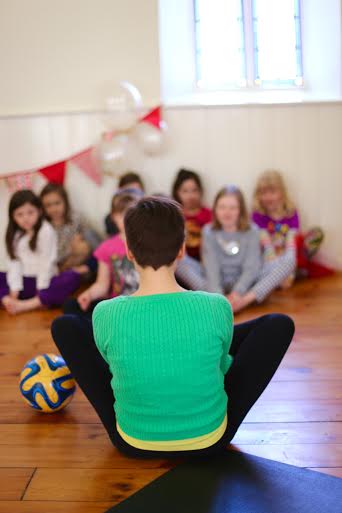 My name is Becky Thorne and I am the Child and Youth Yoga teacher at the beautiful Tone Studio. I recently had the joy of hosting the first ever Tone Yoga birthday party! We had so much fun. On the first day of spring Lily, the birthday girl, and her family arrived with cake and juice for the party. As we waited for the guests to arrive we shared our excitement, set up the food and hung decorations. I created a huge circle of yoga mats for all of us to play yoga together. Soon there were eleven enthusiastic children ready to party, yoga style!
We moved through many games and activities over the next 90 minutes, including creating a rainstorm, growing a forest of birthday trees, yoga bowling and playing with breath and meditation. There was lots of energy and laughter in the room. I grounded this amazing dynamic between the children with several quiet activities to help focus and center ourselves when needed. We also invited Mother Nature in to the party by making magic sticks with found wood and fancy feathers. The creations were beautiful and all so different!
We ended the party sharing delicious cake and presents for the birthday girl. Parents returned to pick up their little ones, and the party was over. Lily and her family gathered up their belongings and said good bye. As I swept up feathers and sparkles and a few escaped crumbs I felt so happy and grateful.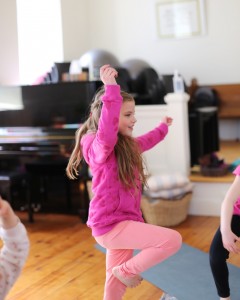 For our kids, birthdays are magic! They wait for them, and anticipate them, and dream about them. It is our chance to honor the work, and play, of growing up and maturing.When we invite yoga into the experience we are also able to help our children slow down, be present and

savor

the magic.

After this very successful experiment, Tone, and myself, are thrilled to announce that we will now be offering birthday parties
as part of the studio's services. This includes 90 minutes of activities while the birthday star's parents participate or relax, and a take home craft for 10 children. I will help you set up and organize and assist in supervising for food and presents. Families will be asked to provide food and drink, plates and cutlery. We have small cups available for drinks, a table for setting up food and a picnic blanket for feasting! And as you wander home, I clean up the mess!
I am also available to travel if you are interested in incorporating yoga into an outside party, or in another community space. Please contact us with details or questions. I am looking forward to many more magical, energetic, delightful parties to come!
Peace and light,
Becky Thorne
---
Book A Birthday Party at Tone!

$175 + hst for a 2 hour birthday party complete with 90 minutes of children's yoga, games, take-home crafts, and relaxation. The price is set for 10 children though more can be accommodated with extra charge per child.

Caretakers are asked to provide food, drinks, dishes and cutlery. Becky is present and available to assist during desserts and gift opening. At the end of the 2 hours, as everyone leaves, Becky sticks around to roll up mats, turn off the lights and sweep up the glitter.
Help us unwrap the potential for Children's Yoga to be a highlight of your child's birthday!
Contact:
Info@toneyoga.ca
519.395.2610 to inquire further.