with Maxine Iharosy CYT 500
Mondays: October 16 – November 27
7:15 – 8:45 pm


Chakra Study:
Anatomy, Asana and Archetypes
Come explore the thematic structure of the Chakra system in 7 enriching Yoga Study classes! In this series we will explore how the 7 Chakra System can be used as a systematic approach to understanding personal patterns for reflective transformation. Through the use of archetypes, self expression and personal study, this series aims to create space for individuals to recognize their own unique strengths. Scroll below to find out more about the Chakras.
 In this series you will:
Be guided and encouraged by a compassionate Yoga instructor while studying how Chakra archetypes can show up for you on and off the mat
Learn about the cross cultural significance of Chakras or Energy Centers
Explore movement and asana which draws focus to a particular area of the body associated with each Chakra for more integrated contemplation
Discover the anatomical ties to each of these energy centers to consider how we may be able to 'feel' them
No previous Yoga experience is required. This workshop is intended for the curious minds of teachers and students alike.
Investment: $108
This series comes with a workbook and weekly contemplations to fully immerse yourself in a 7 week study.

 Or click below to register and pay at Tone with cash or cheque:

---
What are the Chakras?
by Maxine
The word Chakra refers to Wheel, Disc, Cycle or Circle when translated from it's Sanskrit root. A precise translation is difficult as the perfect word may not be available for us in the English language. Many cultures throughout the globe have identified in some way with energetic centers of the body, which give us access to the flow of universal energy, and remind us that we are not separate from this abundant flow.
I use the example of the heart often when introducing people to the Chakras because it is a place we likely have felt an ethereal or energetic sensation at some point in our lives. For example in the experience of heartache, wholeheartedness, grief, gratitude etc, we may detect a sensation around the chest. Physiologically there are an immense amount of nerves and neuro cells (cardiomyocytes) similar to that of the brain situated in the heart (along with many other locations in the body) that provide a dialogue back and forth with the brain and interact with the autonomic nervous system. It is possible that certain emotions may influence a dance of sensation around the heart when information is communicated back and forth from the brain.
Chakras are identified in spiritual texts or by people who claim to see them to be spinning wheels of light. There is a thought that emotional patterning, trauma, disease, or fear block these centers which slow or even stop the flow of vitality, or Prana, resulting in one not being able to recognize their highest potential, or dislodge from particular tendencies that do not serve them.
In this workshop we will focus on the 7 Chakra system inspired by Hindu culture. Ancient cultures across the globe all share their own thought on an energetic anatomy of the human.  Depending on the lineage one follows there may 88,000 Chakra nodes to consider. Western adaptation of the Chakra system highlights the main 7. This being what I have personally explored, this is what I will share!
I am thrilled for the opportunity to share with you this inquiry!
---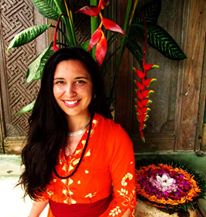 Maxine has been certified and actively teaching Yoga since 2011, and continues to study through local and distant programs. She is known for her playful yet focused classes that celebrate the unique journey of each person. Her heart is in witnessing the transformative power that Yoga creates within the student, including herself.

For more information on Maxine, her classes, and blog visit Innerwildernessyoga.com