Reason #1 – We notify you of cancellations/changes
We have amazing teachers at Tone who make getting to class a top priority. When illness or weather gets in the way – they start calling and emailing for a teacher to cover their class and if, (and it is rare), they cannot get someone to fill in – the class is cancelled. The best way that we can let you know about this is if you are registered for class already. We call everyone that is registered when a class is cancelled.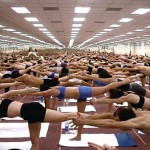 Reason #2 – Our classes are sometimes full
Some of our classes are filling up to capacity! This is wonderful, but it would be sad to see you arrive and not be able to attend. When you register then we hold a spot for you!

Reason #3 – You will be rewarded!
When you register you are more likely to attend! You get a reminder and you make a commitment to yourself. On top of that – it helps us with our data input, so we have happy teachers and staff with more time for the most important part of our job – sharing our time and classes with you.
Thanks to Dan for the Winter Landscape photo on freedigitalphotos.net